| | |
| --- | --- |
| Places: | 28 |
| Where: | YHA Wasdale Hall, Wasdale, Seascale, Cumbria CA20 1ET |
| Arrival: | Tuesday 28th December 2021 from 4pm to 6pm |
| Departure: | Tuesday 4th January 2022 by 11am |
The event
After a successful return to running the ECC weeks at High Close in the summer we would now like to welcome you to our traditional winter week at Wasdale. The cosy lakeside hostel is set in one of the most stunning, tucked-away locations in Britain, with roaring fires, an idyllic venue, delicious vegetarian food, and most importantly the company of lovely men. This all adds up to an amazing experience of seeing out the old year (with great relief this time!) and welcoming in the New Year. So whether you are looking for a magical and different way to spend your New Year, or are returning for more Wasdale wonders - come and join us in the Lake District for a week of ECC sparkle!
Covid restrictions have eased but the pandemic is not completely over. We hope we can run this as close to a normal ECC week as reasonably possible but the situation may change again. If so we may need to revisit aspects of the way the week is organised. In any case we expect to require lateral flow tests before coming and that masks will still be required around the building and YHA staff.
The Organisers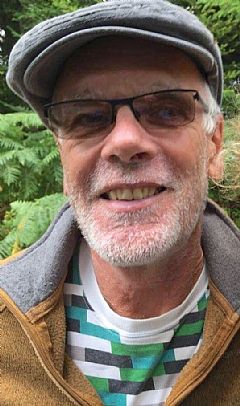 Ian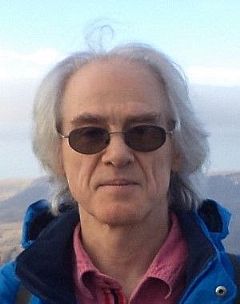 Murrough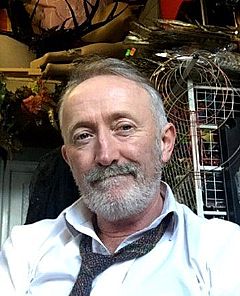 David
Your organisers for the week are Ian Brown, Murrough Landon and David Kennedy. Ian and Murrough are ECC veterans and have organised events before. David joined ECC more recently and is keen to bring his enthusiasm as a first time organiser. We all look forward to spending time with you!
We are always well-looked after by the YHA team led by Steve the new Wasdale hostel manager.
What to expect
The stunning Wasdale landscape attracts keen walkers and there are spectacular walks for all abilities. Short low level walks for those seeking exercise or maybe just a little stroll (to the local pub or the tea rooms). Also more intrepid and challenging mountainous hikes suitable for the more weathered, experienced walkers or those who want to try it out. You'll definitely need suitable boots and warm waterproof clothing if you're planning to go out on the high fells. There will be more on this in the joining instructions we'll be sending to everyone attending.
Though many people take advantage of the local scenery, Wasdale isn't just for walkers. There will be indoor activities and you may want to spend time relaxing in front of the fire, be cosy with a book, play games, sit up late chatting, make new friends, talk seriously, share hugs and laughter, and have fun with other men who love men. There will be plenty of scope both to facilitate and participate in activities and workshops - it all depends what those attending decide to bring and contribute. In recent years it's included dancing, singing, quizzes, meditation, massage, touch, yoga and Pilates, story-reading, graphology, making bread, drawing, outdoor theatre, a cabaret soiree (we have a decent music system and an excellent keyboard - so if you play please bring along some music) … and of course a New Year celebration.
There's a special feeling of Midwinter at the Wasdale events - with the reflection of the moon in the lake or views of the moon through quick-moving clouds and the silhouette of the crags opposite. Inside, we usually gather round the fire and it's cosy. Then as the New Year approaches we can go out to the bonfire on the lake shore to mark the changing of the year.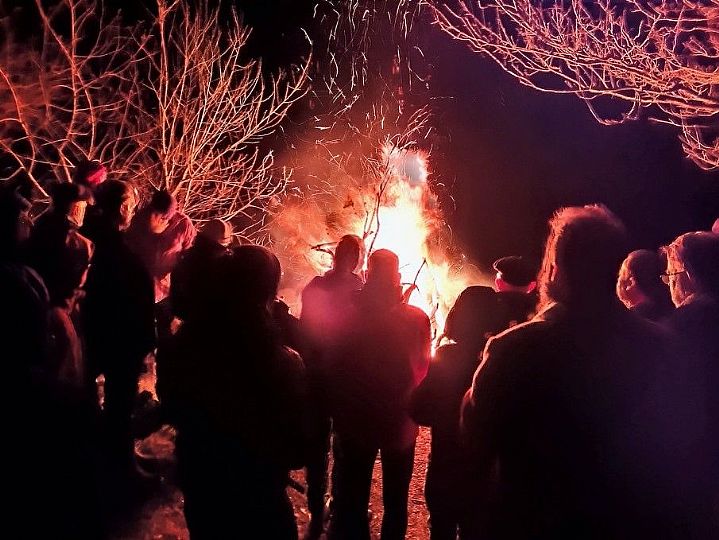 We often mark the winter changes in other ways too with a time together to reflect on and leave the past year and share aspects of what it's meant to each of us and with hopes for the new. It is one of the things that brings a sense of togetherness within our temporary community.
This year people may like to bring ideas or objects to help honour that change. We can talk in more detail about what we'd like to do to mark the New Year when we're there.
Essential information
Access: The building can present some physical challenges for people with mobility difficulties. The Wasdale hostel website has a link to their detailed access statement. If you have any further concerns or queries please contact David before booking via email to artiedavie [at] yahoo.co.uk or phone on 07923 968568.
Alcohol: Wasdale Youth Hostel has a licensed bar selling local ales as well as a selection of wines and spirits. Licensing laws don't allow visitors to bring or consume alcohol that has been bought elsewhere, and we ask that you respect this.
Nearest shops: In Gosforth village about a 10-minute drive away. Please be aware that the Youth Hostel is in a beautiful but isolated spot.
Covid: The YHA is continually updating its Covid policy. The latest version can be found at https://www.yha.org.uk/covid-19. This currently expects both staff and visitors to wear masks when walking around the hostel.
28 places will be available on the week, and we'll reserve a proportion for first-time attenders until mid October. Places can fill up very quickly, so book soon! Please note that if Covid restrictions are reapplied and we need to limit numbers to less than 28 we will have to take those who booked first.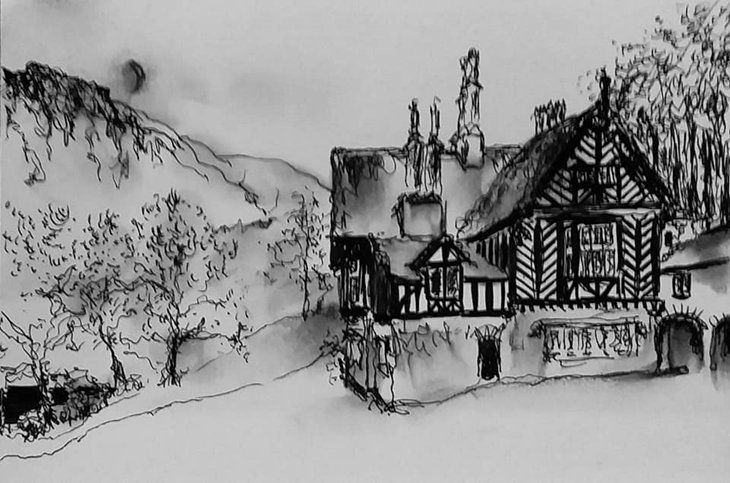 Wasdale Hall by Ivan
Accommodation and Facilities
Sleeping accommodation is in shared rooms with between 4 and 8 bunk beds and shared shower/toilet facilities. With 28 of us we will need to use several of the upper bunks. All the bedrooms are on the first floor and access is by means of a wide staircase, but it may present problems for those with mobility issues. Please check with David before booking if you feel this may be the case.
Food and Dietary Requirements
A varied vegetarian menu is on offer, with a choice of dishes at all meals. There will be a cooked English vegetarian breakfast, and a special meal on New Year's Eve. It is usually possible to provide for special diets if we know your requirements in advance. Please let us know when you book.
Support
Meeting and living with a group of up to 28 others can seem daunting, so you will be invited to join a base group of four to six men, which meets for an hour usually before the evening meal each day. This allows everyone to get to know a small group better, share thoughts and feelings about the week, and support each other when needed. There will also be a heart circle running each day for those who prefer it to a base group, and possibly a reflective heart circle on New Year's Eve open to all.
The organisers are also there to answer any queries you may have during the week.
Travel to Wasdale
The nearest rail station is Seascale, seven miles away. We are usually able to collect you from the station on arrival, but it may be necessary to share a taxi if lifts cannot be provided. There is often a somewhat reduced rail service to Seascale during the Christmas/ New Year period. We'll monitor the situation and if it necessary it may be possible to organise a minibus from Lancaster / Barrow / Carlisle with the cost shared by everyone travelling. We will update you of this once rail bookings have started for these dates.
NB: If using Google Maps or a satnav, the CA20 1ET postcode brings you to Nether Wasdale, about 2 miles from the youth hostel. Full joining instructions will be sent out a few weeks before the event.