Our History
The origins of the community can be found in a housing co-operative called Wild Lavender which was formed in 1980 by a group of gay men interested in living together in the country, with ideals of nurturing each other and living co-operatively. Its members set up houses in Leeds, where they found out how much work is involved in being a stable group of men sharing a home.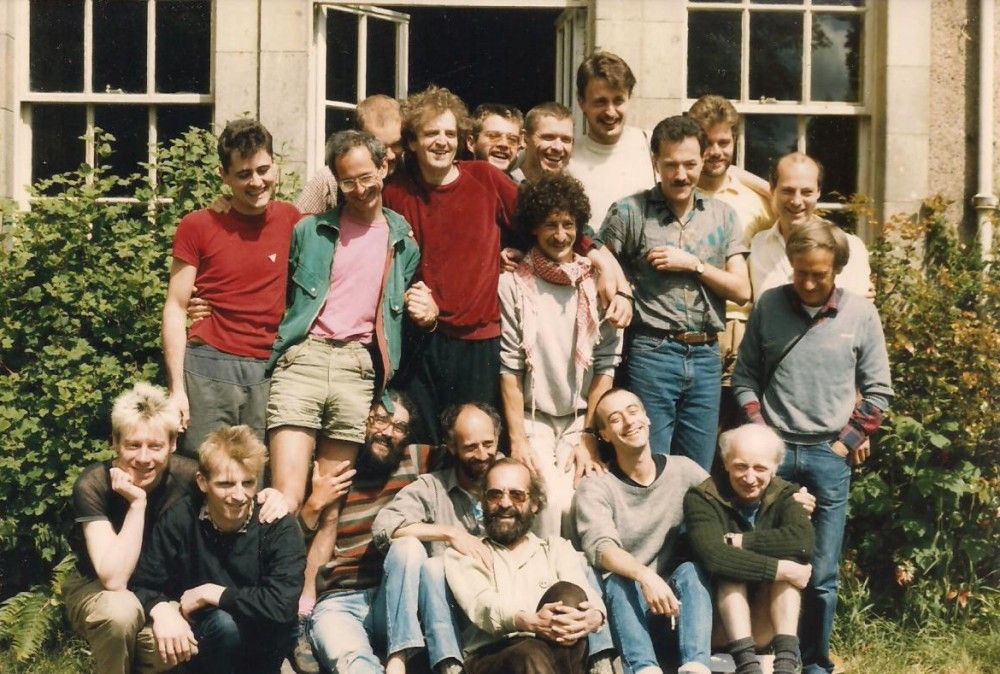 Group photos are a traditional feature of Gay Men's Weeks at Laurieston Hall, this one from 1985
By the summer of 1984 the co-op members had learned a lot about honesty and acceptance. Wild Lavender realised that there was a need to bring its vision and ideals into the wider world. To this end, the co-op organised and hosted a Gay Men's Week in June 1985 at Laurieston Hall, a rural community in South West Scotland. A second week that year, Health Week, helped establish a larger group which went on to become the Edward Carpenter Community.
Initially, the main focus of ECC was around setting up a rural community and holistic centre, where our experience of personal growth and intimacy could be shared. We aimed to be a resource for the wider gay community. In February 1987 a re-evaluation occurred when it was realised that the group was more than prospective rural project dwellers and that we wanted to develop in several other directions. People's changing energies and interests have emphasised different aspects of the ECC from that time.
Since 1989, yearly meetings began to work out how ECC could become more responsive, accessible and accountable to its members and to the men who come to the events it organises. The decision-making body is now known as the Autumn Gathering, and is open to all ECC members.
In 1994 we became a community business – Edward Carpenter Community Ltd. This was necessary as a way of coping with the financial and legal problems presented by our rapid growth. We are now a non-profit-making company run for the benefit of the community. Members are liable only up to £1 should the community fold with debts. An immediate advantage in having a written constitution is that anyone taking on responsibility, particularly for money and decision-making, is clearly accountable to the whole membership.
The number and variety of events that we organise has grown from one event with twenty participants at Laurieston Hall in 1985 to seven or more events each year today, some with as many as sixty men attending. The Gay Men's Weeks at Laurieston Hall are an established part of the gay calendar, and our events now take place at a number of other venues as well.