Who was Edward Carpenter?
1844 - 1929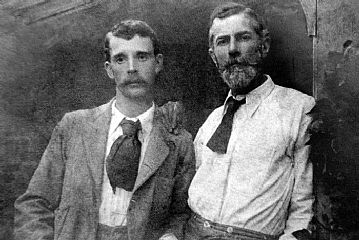 Edward Carpenter (right) with his lover George Merrill
Edward Carpenter was a hugely influential socialist, critic, writer, poet, thinker, vegetarian, and mystic. Not so well known today, he was a pioneering supporter of many progressive causes we now take for granted, including women's rights and sexual reform. His radically different lifestyle became a symbol of liberation from the oppressive middle class values of late Victorian England and his writings were an important contribution to the development of the English socialist movement and much later, to the gay liberation movement. He lived at Millthorpe, near Sheffield, with his lover, George Merrill (who inspired E M Forster to write his novel 'Maurice'). Their home became a place of pilgrimage for his many admirers.
Our community chose to honour Carpenter by adopting his name in recognition of the strong resonance between his lifestyle and the shared values of the men who came together in the 1980s. We are not necessarily disciples of Carpenter, but our original Principles and Intentions were very much inspired by his life.
One of our members, Simon Dawson, has made a study of his life, and if you want to know more about Carpenter, we recommend you visit his website: www.edwardcarpenter.net
There is also a newer group called the Edward Carpenter Forum, dedicated to the exploration of the life, ideas and work of the pioneering thinker, activist and visionary and his circle.
The Friends of Edward Carpenter are a small group of people who are dedicated to establishing a permanent memorial to Edward Carpenter in Sheffield City Centre, recognising his historical and social importance and unique association with the city.