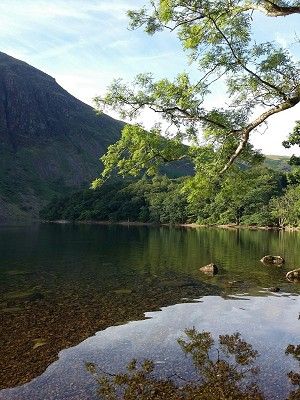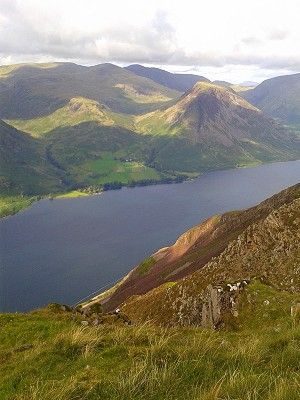 The location and event
Wasdale, the wildest of the valleys in the Lake District, is the remote and beautiful area between Gosforth in West Cumbria, past Wastwater, England's deepest lake and up to the mountains Great Gable and Scafell Pike, England's highest mountain.
We'll be staying at Wasdale Hall, a beautiful 19th century Country Manor perched on the edge of the lake. We have spent many weeks at the Hall which is now run by the YHA and always look forward to the warm friendly hospitality of Bob and his staff.
In the long summer days there is ample time to go exploring among the valleys and fells taking low-level strolls or venturing high up into these beautiful hills. Early morning swims before a hearty breakfast are just one of many delights awaiting you.
Though most people take advantage of the local scenery, Wasdale isn't just for walkers. It may be that you want to spend time relaxing indoors, making new friends, sitting up late chatting, having lively discussions, sharing hugs and laughter and having fun with other gay men. There's space for 30 men on the week.
The events on the week are initiated and set up by those who are present – we all in some way contribute to the community as it develops through the week. Anyone can propose a walk, suggest a trip, or run a workshop of some kind. Indoor workshops at past weeks have included massage, many different forms of dance, drawing, singing, discussions, yoga and meditation – the scope is wide and creativity often astounding. We generally have a cabaret evening or soiree later in the week, which is good fun. We have an excellent keyboard so if you play do bring along some music. There's also a good music system available.
Your organisers for the week are Ivan Cartwright (L) and Jimmy MacSweeney (R) who've been on many weeks over the years and have organised a few in their time. We look forward to seeing you.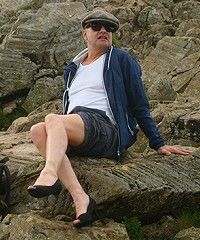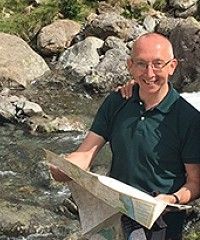 Booking details
To secure your place you can book online or download and print a paper form using the links below. Send forms and cheques to Jimmy MacSweeney at 15 Rankine House, Bath Terrace, London, SE1 6PL. We ask you to send a deposit of 25% at the time of booking and the balance by 29 June 2017, or send the full amount if you book after that date. For any enquiries about the event, you should contact Jimmy directly. Phone 07847 104860, Email jimmymacsweeney [at] talktalk.net.
Accommodation and facilities
Sleeping accommodation is in shared rooms with bunk beds and shared shower/toilet facilities. All the bedrooms are on the first floor and access is by means of a staircase, which can present problems especially for those with mobility issues. Please check with Jimmy before booking if you feel this may be the case.
Please note that although we have exclusive use of the youth hostel for the week, there are public footpaths running through the grounds, and members of the public may approach the hostel from time to time to make enquiries, or just passing through.
Please be aware that the Youth Hostel is in a beautiful but isolated spot. The nearest shops are about a 10-minute drive away, though a couple of supermarket shopping trips are usually arranged for forgotten last-minute items.
Food and dietary requirements
A varied vegetarian menu is on offer, with a choice of dishes at all meals. There will be a continental breakfast, plus porridge. It may be possible to provide for special diets if we know your requirements in advance. Please let us know when you book.
Support
Living with a group of up to 30 others can seem daunting, so you will be invited to join a base group of four to six men, which meets for an hour each day. In the base group you can get to know a small number of men better, and share your thoughts and feelings about the week — as well as hopefully relate what is going well! There will also be a heart circle each day for those who prefer that to a base group.
Travel to Wasdale
The Hostel is in a remote spot with the nearest rail station being Seascale, around eight to ten miles away. We may be able to collect you from the station on arrival, but it may be necessary to share a taxi if lifts cannot be provided.
NB: If travelling by car and using Google Maps or satnav, the CA20 1ET postcode brings you to Nether Wasdale, about a mile from the youth hostel. Full joining instructions will be sent out a few weeks before the event.