A one-day planning and business meeting
Sunday 10th November 2019, 12 noon to 6.30pm
The annual Autumn Gathering is a meeting where ECC celebrates the rich experiences of the past year and plans events for the forthcoming year. We also ensure that taskholders and event organisers are in place.

It is also the time for the community's Annual General Meeting, a short formal meeting mainly to ratify finances and to elect members of the maintenance group and taskholders.

This year we are making changes in the timing, venue and length of the annual meeting. Originally planned for January 2020, we have rescheduled the AG as a result of the following considerations:
The past two AGs at Unstone Grange have attracted relatively few participants, and the venue is not available until January 2020.
Recent AGs have only required a few hours to deal with matters arising in the Community. While this has allowed a lot of time for socialising, perhaps a weekend in January is not the best time for this.
There may be an advantage in continuing to hold an 'autumn gathering' in the autumn, in terms of planning events well in advance.
Depending how this experiment works, we will make plans for future AGs regarding length, timing and venue.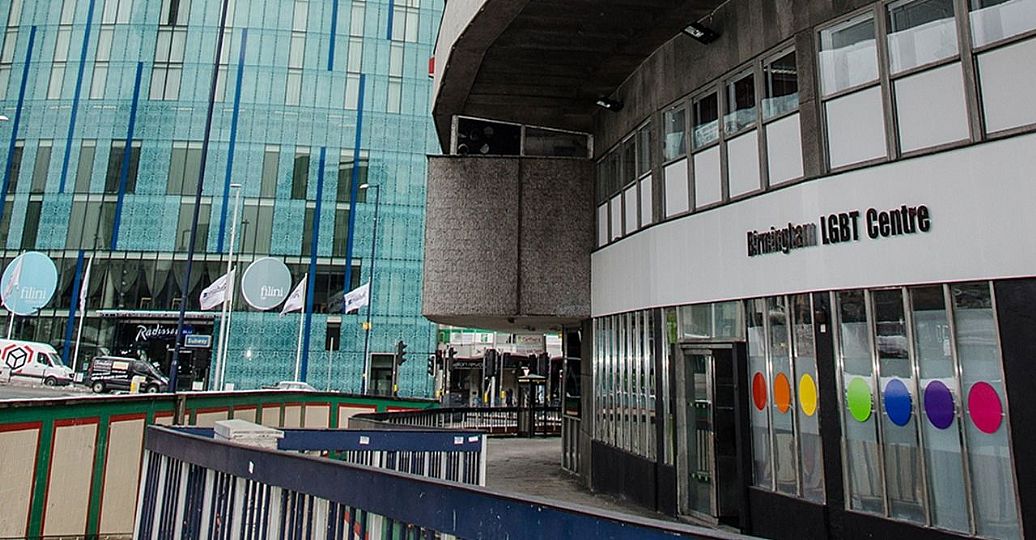 The Birmingham LGBT Centre at Holloway Circus
Plans for the 2019 gathering
We are holding this year's meeting on the afternoon of Sunday 10th November, at the LGBT Centre in Birmingham, 38 Holloway Circus B1 1EQ, between 12 noon and 6.30 pm. We believe that this will allow time for a brief review of the past year and consideration of bids for the next 12 months as well as for the AGM.
Based on recent years' experience, we expect attendance of up to 25 men.
Birmingham is easily accessible by car or train (no disruptions expected on this date) .David Wray is happy to provide some of his delicious food for a light lunch, and for those with time, there are places to eat nearby in the early evening.
Before the meeting we are asking task holders, local group facilitators and organisers of events this year to submit reports to the MG, by October 15 please, so that they can be circulated via the website and read before the meeting.
We also are looking for potential event organisers to submit bids for next year. These should reach us before the meeting if possible; please contact us if you want to discuss any ideas beforehand.

Specific proposal
There is a proposal from Jimmy MacSweeney to seek to change Article 25 of our Articles of Association for Edward Carpenter Community Ltd. This states that 'No business shall be transacted at a General Meeting unless a quorum of members is present. 15 members will be a quorum'. Reflecting the decrease in numbers of members attending the AG, he proposes reducing the requirement for a quorum to 10, and is seeking responses from the Community.
Notice of AGM of Edward Carpenter Community Ltd
Notice is hereby given that the Annual General Meeting of the Edward Carpenter Community Ltd will take place on Sunday November 10, 2019 at 5.00 pm at the Birmingham LGBT Centre, 38 Holloway Circus, Birmingham B1 1EQ.
Any member wishing to put down a motion for discussion should forward this motion in writing so that it reaches the undersigned not later than 28 days before the date of the meeting
David Wray, Secretary, Edward Carpenter Community Ltd., 29, Claverdon House, Hollybank Road, Birmingham B13 0QY (email maintenance [at] edwardcarpentercommunity.org.uk).
How to Book
There is no charge for this meeting, to which we hope to attract up to 25 men. A light lunch will be served at 12 noon, before the meeting starts at 12.30. If you'd like to come, please RSVP to Jimmy (jimmymacsweeney [at] talktalk.net), so that we have an idea of numbers.
We look forward to meeting you in Birmingham to celebrate our achievements and bring our enthusiasm and positive energy to the community as we plan for the next year.