We've had some wonderful weeks at High Close in recent years and are delighted to be returning to YHA Langdale in August. A magical place to stay – this sprawling Victorian mansion is steeped in history and perched above its own three-tier arboretum that's managed by the National Trust. The hostel's enviable location is unmatched with stunning views of the Langdale Pikes. This is a place from which the central fells can be explored and enjoyed immediately upon stepping out the front door. The hostel is set on a quiet hillside in the beautiful Langdale Valley, yet within easy reach of Ambleside and Grasmere where Wordsworth lived for many years at Dove Cottage. The area offers excellent walking from easy afternoon strolls to energetic all-day mountain hikes and the nearby Loughrigg Tarn offers exhilarating outdoor swimming.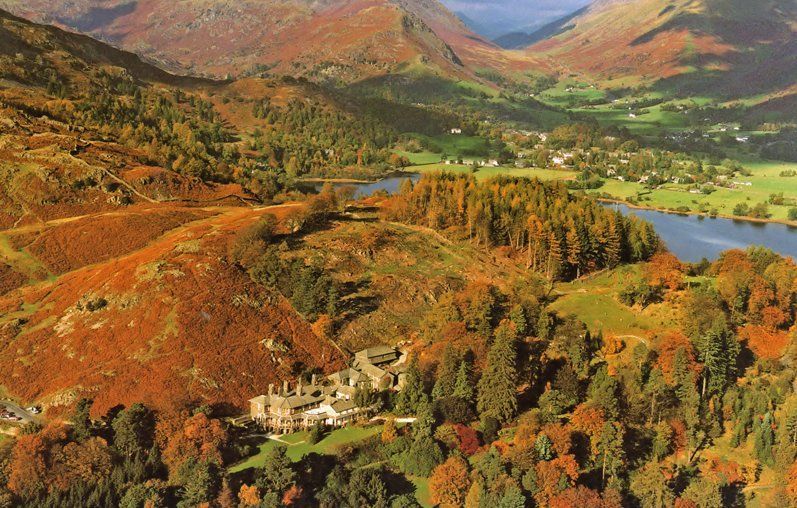 High Close with Grasmere beyond
We have exclusive use of the large and character-packed building with its big dining room and workshop spaces, secluded garden and veranda with wide views toward Grasmere. Sleeping accommodation is in bunk beds in rooms varying in size from four to twelve beds and with many more beds than people there is plenty of room to spread out. It's likely that a small number of upper bunk beds will be used to accommodate everyone. All meals are vegetarian and prepared for us by the Hostel staff.
What happens on the week depends on the participants who come. While lots of people will take advantage of the outdoors and go off hiking in the fells it may be you want to spend time chilling out on the veranda, playing games, sitting up late chatting and making new friends. There's plenty of scope both to facilitate and participate in activities and workshops - it all depends on what those attending decide to bring and contribute. The time is ours to unwind, meditate, sing, dance, walk or just take in the beautiful countryside. Base groups and/or a heart circle will meet daily before the evening meal and provide an opportunity to get to know 5 or 6 gay men really well and help us share the challenges and joys of being in a community of 55 gay men. Above all we hope the week will be relaxed, informal, friendly and fun.
Organisers
Your organisers this year are Peter McCarthy, Stephen Messinger and Tecwyn Vaughan Jones. If you have any queries specifically about your booking, you should contact Tecwyn: tecwynvaughanjones [at] hotmail.com | 07980 567824. If you have any other general queries, you can contact Peter: peterdmcc [at] btopenworld.com or Stephen: stephen.messinger [at] talktalk.net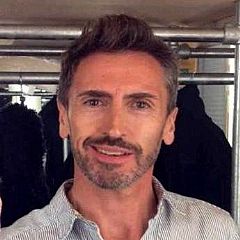 Peter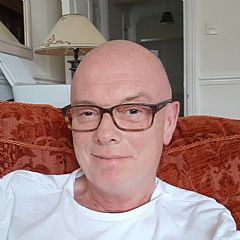 Stephen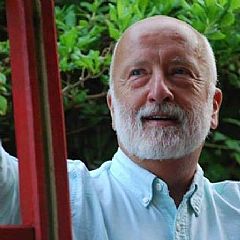 Tecwyn
Peter
My first Gay Men's Week was in 1996 at Laurieston. It was incredible to experience for the first time what a genuinely kind and supportive gay community could be like. There were many more weeks over the years, all amazing in their own way, even the ones when I wanted to leave halfway through. I always stayed, and out of that discomfort all sorts of wonderful things happened. It feels very exciting to be, for the first time, part of an organising team. Also a bit daunting. But so pleased to be doing it with Stephen and Tecwyn. I look forward to seeing you on the veranda for a cup of tea, a cake and a good chat. I've spent many years working in the music and performance world organising and supporting groups of people to work collaboratively on various projects. I love music and feel very lucky to work in the arts.

Stephen
Joining ECC in 2016 led to some of the most special and beautiful things I've ever experienced with other men who love men. Still remembering it clearly, I arrived at Laurieston Hall in August 2016 for my first ECC event with an existing ECC member, and another new member in my car. It had been a very long drive from Southampton and all I could think of on arrival was using the loo and getting a cuppa. There were to be 60 or so others there and most seemed to have arrived already. How I controlled my over-stretched bladder I'll never know because wonderful, warmly welcoming men barred my way to the toilet with greetings and friendly enquiries about who I was. The nearest comparable experiences before arriving that day were residential psychotherapy training conferences, of which I had attended many. There were always many new and well known faces to meet, workshops to attend and speakers to hear, conversations, meals and drinks to share. So it wasn't the presence of so many people, nor the set up of the week that took me by surprise. It was the welcoming, authentic and warm community that deeply touched me. I enjoy being a part of the event organising team and happily draw upon the event planning work I did before my retirement in 2016. It's a pleasure to set up the space with other organisers where our community then gathers, and then to become a part of that community as it takes, fills and shares that space.

Tecwyn
I am very happy to be part of the organising team at High Close again this year. It's been a privilege to work with everyone and particularly proud that we managed to pull together a successful week in 2021 despite the ever-present threat of Covid. I first participated in a gay men's event with Stonewall Breaks back in January 1988, a weekend organised by Richard McCance, in a farmhouse above Keighley in the Pennines, where we had quite a fierce snowstorm! My first ECC Gay Men's Week was in the summer of 1993 when we had a Great Outdoors weekend in Wasdale. Since then, I have been part of the organising teams for Wasdale New Year and also High Close. I retired from higher education teaching in 2017 and was able to participate even more in ECC events. I have made good friends in the community over those years. I enjoy very much being part of the ECC communities and hope to continue participating long after my organising days are over. I live with my husband Richard, in Colwyn Bay on the northern coast of Wales and only a few miles away from my hometown of Blaenau Ffestiniog. It was a wonderful step that I took in 1988, a step that led to many further steps, indeed a journey of involvement, and friendships which has enriched my life in a very special way.
High Close - A History
In case you wondered why we refer to this venue as High Close, as well as Langdale Youth Hostel, here's a short history of this enchanting place.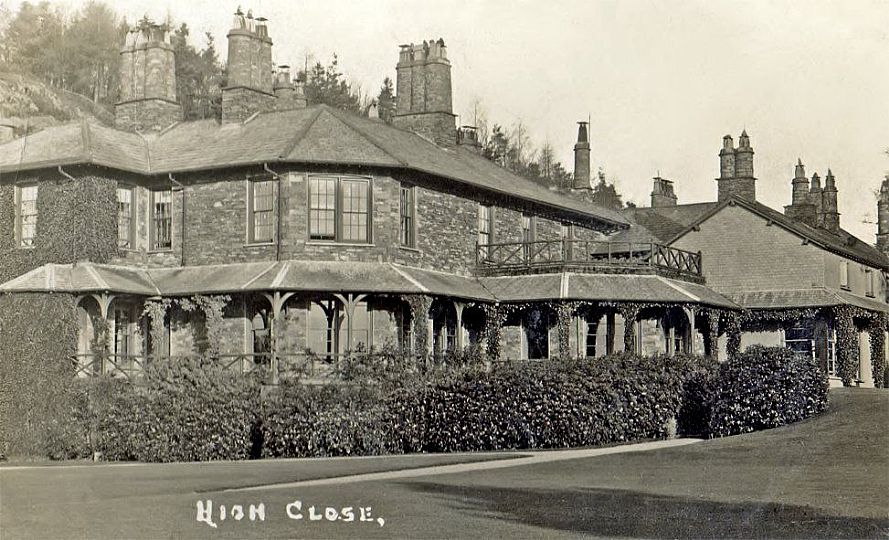 High Close in 1909
From 1621 – 1879 High Close worked as a hill farm. Originally a small hamlet of cottages, it was part of a large sale of properties to the Benson Family in 1575. The Benson Family were fullers (finishers of cloth that would be made into garments and sold in Kendal). There is evidence of a fulling mill in Low Wood, a reservoir, sluice, bracken kilns and a service road.
1575 also saw the beginning of a decline in the clothing trade reducing the mills in the Grasmere Parish from eighteen to two in 1765. In 1792 High Close was sold to George Law of Brathay Hall, a successful Jamaican trade merchant. The years 1792 – 1802 saw the first extension to the original farmhouse with the construction of what is now the drawing room and the partitioning of the attic into rooms.
Between 1802 – 1857, High Close changed hands a few times. Through the Law Family from George Law's heir and brother Henry Law, to his nephew and heir John Law Beetham. Then sold onto John Hird then to James Greenwood whose son, James Greenwood Jnr., would sell it onto Edward Balme Wheatley Balme (EBWB) in 1857. In 1866 a major refurbishment and expansion was planned and executed by EBWB and the architects Corey & Ferguson of Carlisle.
Upon the death of EBWB in 1896, his son-in-law and land agent, Frank Maude Taylor Jones Balme inherited High Close. After his death in 1911 his son, Frank Edward Thorpe Jones Balme inherited until his own death in 1951. In 1951 Frank Edward Thorpe Jones Balme's trustees and the commissioners of the Inland Revenue directed that High Close should become the property of the National Trust. 1st January 1954 then saw the leasing of High Close to the Youth Hostels Association (YHA) and it opened its doors to its members the following Whitsun, 6th June 1954.
Vision and Values
The organisers of this event kept the following three points in mind when setting up the week. It's anticipated that the same values will then be held and followed by everyone on the week as it unfolds.
As members of the Edward Carpenter Community we are committed to:
1. Becoming fully ourselves as gay men
By being creative, courageous, open, truthful, loving and fully responsible for ourselves.
We will pursue personal growth and engage in activities that increase our self-awareness, self worth and well-being.
2. Creating community
By being welcoming, inclusive, safe, empowering, encouraging, allowing, accepting, co-operative, challenging, forgiving and fun.
We will do this through friendship that builds trust and intimacy and formal and informal gatherings and events. We will embrace diversity. We will make decisions by consensus, support each other and share skills and knowledge.
3. Living respectfully and holistically within the wider world
By engaging, inspiring, questioning, pioneering, and sharing our lives and gifts.
We will build relationships with others and be aware of the impact of our thoughts, intentions and actions on our communities and planet.
Essential Information
Venue: Langdale Youth Hostel, High Close, Loughrigg, Ambleside LA22 9HJ
Dates: Tuesday 23rd August to Tuesday 30th August 2022
Accommodation: Bunks in rooms of four to twelve beds. There is plenty of space for people to spread out.
Accessibility: The building can present some physical challenges for people with mobility difficulties. Please contact one of the organisers if you would like to check out how this may apply to you.
Nearest shops: Grasmere 2 miles, walkable. Ambleside 5 miles.
Travel: The nearest station is Windermere which is 9 miles away. The nearest bus stop is 1 mile away in Elterwater Village. There is a daily bus service which runs hourly. There are plenty of taxis available from Windermere and the cost is fairly reasonable if you share with others.
Arrival/departure: Arrive from 4pm on 23rd August and leave by 10.30am on 30th.
Places: 55 places will be available on the week and we'll reserve a proportion for first-timers until 1st June 2022. When bookings open, places can fill up very quickly.
We hope everyone is well and in good spirits. As the Covid vaccine rollout continues, and assuming there are no new Government restrictions, we're optimistic that this event will be able to go ahead. In keeping with recent ECC events and good practice generally, we anticipate including some Covid measures to promote safety. These might include making places on this event open to men who can demonstrate that they are fully vaccinated, and/or have tested negative for Covid on the day of arrival. Circumstances have a habit of changing, so nearer the time we may revisit the measures needed, and will keep participants informed via the joining instructions.
Note: The scale of charges has been revised from that originally published to reflect more closely the ECC guidelines.